A solar panel for the Small Cabin
Off Grid Solar System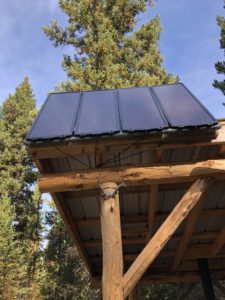 This has been great!  We put up a 200 watt solar panel and attached that to a 200 watt inverter with two plug ins.  Now we have power!
Solar panel kits have come down in price and many great ones can now be purchased on Amazon.  Here is an example of one from Amazon
With our 200 watt panel and an inverter that has two standard outlets we can power my laptop, small-screen TVs, our phone chargers and can even use our coffee pot if we want to.  I'm told we can also use a  toaster, blender, and boom box but haven't tried that yet.
Setting up the solar system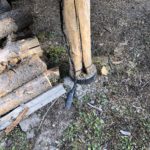 Here are some pictures of Scott setting the system up.
First he mounted the Panel on the outdoor cooking area and ran the wires down the post – here is a picture showing the wires running down the post and into the pipe.
The trench was dug using a pix axe and dug down about a foot.
This trench is to run the wires through the pipe to the cabin, it's not good just to place the wires in the trench – they could get damaged or rot from moisture in the soil.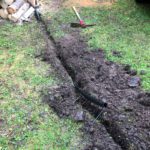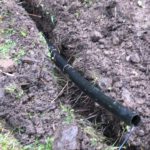 To prevent any damage happening to the wires, Scott placed a pipe in the trench in which he pulled the wires through.
These wires not need to go to the battery, charge controller and then the inverter.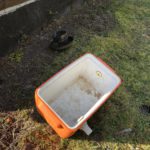 Because the cabin is small and we really didn't want a batter in it, we found this old cooler and used it to put the battery and charge controller into.
The battery we are using is a marine battery – it fit nicely in the cooler.
Marine batteries can vary in price – cheaper is not always the best way to go.  We paid around $200 for this battery but the ones in our travel trailer were about 400 they lasted for 6 years.  We will see how long this one lasts.
We filled the cooler with styrofoam insulation to help protect the battery from our cold weather and so far it seems to be working well.
Once everything was hooked up to the cooler, a hole was drilled thru the log and into the cabin to attache to the inverter.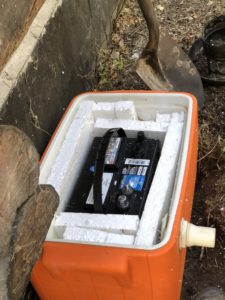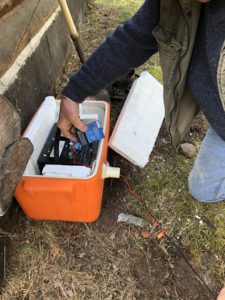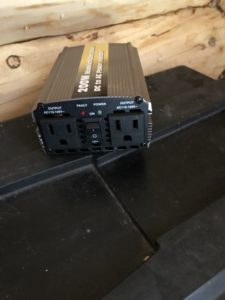 Because we have cold winters and not much room in the cabin, we but the battery in an old cooler and insulated it.
If you don't need to worry about the weather or have a larger area to store them that's great.  If storing outside a battery box should be used.
What can I run on my 200 Watt Inverter
Some of the items you can run on your 200 Watt Inverter would be:
Charge a Cell Phone
Use your Laptop
Printer
25″ TV
Ceiling Fan
LED Light Bulbs 40, 60, 75 or 100 Watt
Some Coffee Makers
For more info on power inverters go to the link below
https://learn.compactappliance.com/power-inverters-guide/
#camping #travel #vanlife #offgridliving #offgridcabinliving #offgridcbin #nature #hiking #bushcraft #nomad #wanderlust #naturephotography #sparring #homestead #survival #tinyhouse #apocalypse #tinyliving #roadtrip #outdoors #tinyhome #minimalism #naturelovers #sustainableliving #offthegrid #camp #travelholic #solarpanel #solarpower #solarelectricity