How to go off grid and disappear?  Don't we all think of that at times?  Here is some information on Solar Power to get you started:
The Decision to go Off the Grid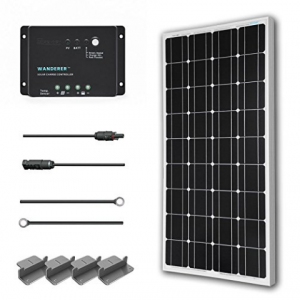 If you decide that off the grid living is for you, more than likely you've already purchased that efficiency cabin (code for tiny) with some acreage.
You're ready to hook up to solar power and start living that pioneer life.



Components of a solar power system
Some of you are lucky enough to be in areas where you can harness electricity from solar, wind and water.
But for most people living off the grid, the main energy source is usually solar power.
Here are the basic components of off grid solar power kits.
Solar Photovoltaic Panels to generate solar power.
A charge controller to transfer the energy from the panels to the batteries.
Deep cycle batteries to store the energy
The Load, or actual item using the energy.
Of course, there are other components that, while not technically necessary for a very basic solar powered system, should definitely be considered for the larger electrical consumption needs of cabins used year-round.
Inverters convert direct current (DC) battery power into immediate alternate current (AC) power to run household items that operate with AC power.
A battery monitor is an essential component that monitors available battery power. Batteries should not be drained of more than 50-70 percent power.
A load or distribution box is the equivalent of a fuse box where you can hook up more than one load. It also acts as a kill (safety cut off) switch.
A power box combines most of the components into one large component for convenience and safety. However, this equipment is very expensive.
DIY or Pro?
Starter off the grid solar power kits
power kits may sound difficult to install, but if you have proficient do-it-yourself skills, there are many diy solar power systems to choose from.
To be on the safe side, if you're a newbie and not that much of a diy person, then it's best to seek out professional assistance to guide you through the installation process.
Expectations and Usage
You need to have realistic expectations going into an off the grid lifestyle. The worst thing you can do is to set up a solar powered system that can't handle the loads you plug into it.
The key is to simplify your life, streamline energy usage and minimize energy waste.
It takes a prohibitive amount of solar power for things like full-sized refrigerators, stoves, window air conditioners, microwaves, washers/dryers, hair dryers, vacuum cleaners and big screen TVs.
Consider energy rated efficiency appliances that use propane instead and eliminate items you truly can live without.




Choosing a Solar Power Kit
First and foremost, you should choose a system based on your total energy consumption needs. To figure out the size of your solar powered kit, calculate the following data using various free online calculating tools on websites such as Renogy and Wholesale Solar.
Determine total energy consumption in one day.
Account for inefficiencies of about ten percent.
Calculate the maximum number of loads being used in the same period.
Figure out the number of days per week the system will be used. Will it be seven days per week or three days per week?
Typically, to power six to eight LED lights, a TV, coffee pot, a clock radio, a table fan, a laptop and other small miscellaneous energy-rated appliances for seven days at four to six hours per day, you're roughly looking at four 100 watt panels and about four deep cycle 12-volt batteries.
Solar power system costs do fluctuate dramatically based on individual needs. You can expect to spend on average $2,000 dollars for a good quality system.
Most off grid solar power kits consist of the panels, the charge controller, the connecting cables and sometimes the inverters. However, many affordable kits come with mid to low-grade controllers and/or modified sine wave inverters, both of which are low quality.
On the other hand, you don't have to purchase the most expensive kit out there. Find that happy medium with solar power system costs by discussing your energy needs with a qualified professional.
Amazon is a good place to find good starter kits, but visiting a specific brand website or calling their customer service for assistance will also help determine the best starter kit for you.



You've researched solar powered systems and you're ready to install one at your cabin. But before you do, be sure to address the following conditions.
The panels must face south at all times, especially if you live in northern areas.
The angle of the panels must be equal to the latitude of where you live.
If you cannot get the panels exactly equal to your latitude, then get as close as you can by installing movable brackets on the mounting frame so you can adjust the panels to track the sun.
Panels should not be exposed to excessive heat or temperatures over 77 degrees Fahrenheit. Sufficient gaps should be between the panels and the roof or mounting frame.
While installing the panels, cover them to block sun absorption and avoid the potential for shock.
Always use deep cycle batteries, never use car batteries for a solar powered system.
Remember you are working with equipment that can pose significant safety hazards. To avoid shock and burns, handle all components with care and respect.
Conclusion
The decision to go off the grid should not be entered into lightly. This is a complete lifestyle change that is not for the lazy, squeamish, fearful or inflexible.
You have to be willing to leave the creature comforts of city life behind and live a sustainable and basic existence.
If you want to live free of utility bills, close to nature and become more self-reliant, then an off the grid lifestyle may be right for you.


355W Solar Panel MONOCRYSTALLINE PERLIGHT

ECO-WORTHY 400W Solar Panel System: 2pcs 195W Solar Panels with 60A Charge Controller Kit for Homes,RV,Trailer
#camping #travel #vanlife #offgridliving #offgridcabinliving #offgridcbin #nature #hiking #bushcraft #nomad #wanderlust #naturephotography #sparring #homestead #survival #tinyhouse #apocalypse #tinyliving #roadtrip #outdoors #tinyhome #minimalism #naturelovers #sustainableliving #offthegrid #camp #travelholic #solarkit #solarpower #gosolar