Goodbye! So glad to be rid of the cars!
When we purchased our 10 acre property we also inherited a couple of dilapidated vehicles.  One that was parked right in front of the main cabin!  I knew right away that these things were going to be the first to go.
A few years back we had an old truck that we needed to get rid of and found a local tow company that towed it away for free, but it had wheels and still ran.  So these may be a problem to get rid off, although I'm sure they are worth something for the scrap metal alone.
These vehicles that have been left behind at the property were in pretty rough shape.  The van had flat tires and of course neither one of them ran or even had keys to try.  The plates suggested that they had been parked there for a few years.
Our off grid property is 15 miles off the main highway and 2 miles of that is down an old and seldom used logging road, not in the best shape to say the least, so I'm hoping I can find someone that will take these vehicles away and won't mind the drive.




I came to the conclusion that we were probably going to have to pay someone an amount of money to get rid of these vehicles, or find a trailer and tow them out ourselves one by one.
Scott had to go out of town to work, and at this point we had not taken possession yet so we had time to figure it out and would deal with it when he was back home.
The day before he left we went out to dinner and sitting at the table talking about the property and how we would have possession by the time he got home, I look up and there straight ahead of me on a bulletin board reads this sign "Free Vehicle Removal" Wow!  This is great!
So I called the number and told the tow guy we were off the beaten track and had two vehicles that were not in the best of shape that had to go.  I was thrilled to find out he would come and get them and take them away free of charge.
A couple weeks went by and the place was officially ours and now I was going to call the tow guy and get these vehicles out before Scott arrived home.  Oh that was a happy day!




The day came to get rid of these vehicles and I met the tow guy at the highway and he followed me in.  He came with a tow truck and a trailer so he could take both vehicles at the same time.
Although he said he would tow them and I did tell him how far off the highway it was, he seemed surprised when we finally got out there.  He was a nice guy and I was so happy to see these vehicles go and thinking it really was a long way for him to come.  I had something else he could tow away.
After we were all finished I asked him if he was interested in another vehicle that had been sitting for a long time a 1955 Ford – it was my brother's but before that my fathers and it had been left abandoned out in the bush years before.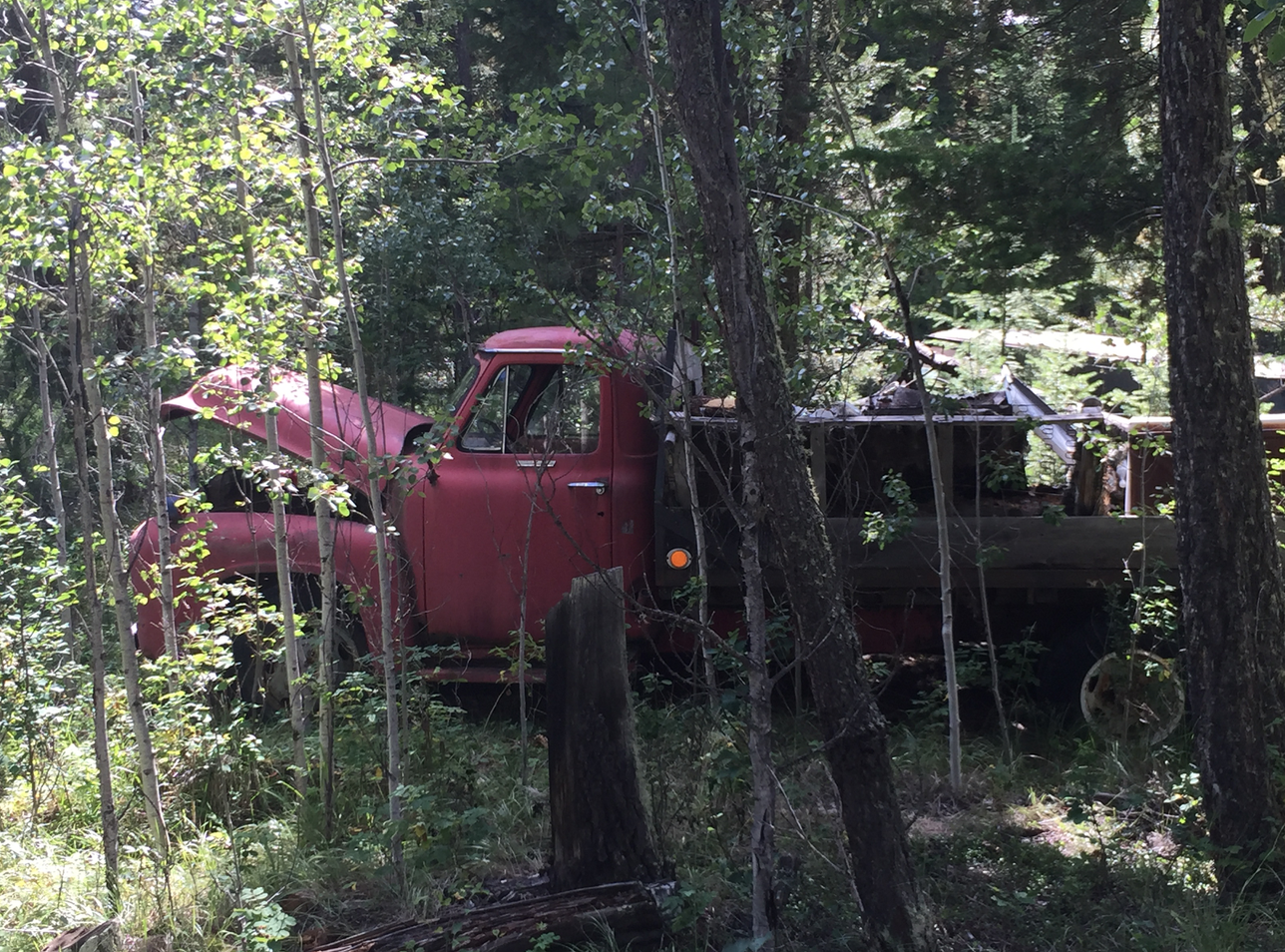 We drove out and on the way stopped along side the road and hiked into where the truck was.  He was more than happy and would come back and get it the next day.
The next day he called me and told me he had pulled the old truck out and if I wanted to meet him at the local restaurant I could get a nice picture of it.  I did and found out he is going to park it outside his yard and plant the box with flowers.
2019 Update
Dad's old truck did sit out front his business for a few months, but then it was gone…..I guess he probably got a fair price for it.  Sad that we don't get to see it anymore, but I guess it was meant to be.  I like to think that someone bought it and restored it, and one day we will see it driving down the highway once again.
I'm so glad it went to a nice home.
#camping #travel #vanlife #offgridliving #offgridcabinliving #offgridcbin #nature #hiking #bushcraft #nomad #wanderlust #naturephotography #sparring #homestead #survival #tinyhouse #apocalypse #tinyliving #roadtrip #outdoors #tinyhome #minimalism #naturelovers #sustainableliving #offthegrid #camp #travelholic #scrapcar #towingthecars #1955Ford