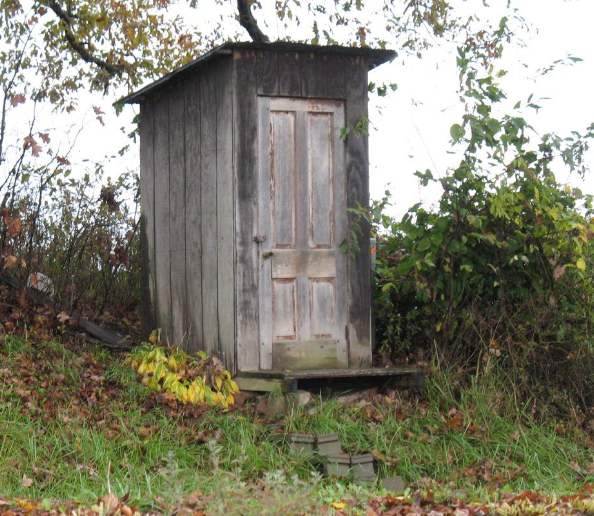 When the snow fell….the plan was to skid the outhouse over to a new location.  There was a tree hanging over the outhouse not wanting to fall it on the outhouse and destroy it, we were waiting for the snow, that way it could be skidded across the snow quite easily and on to the new hole that Nathan had dug.
I thought I has some pictures of the outhouse before the tree decided to fall on it, but somehow they have all disappeared.
Well, the snow came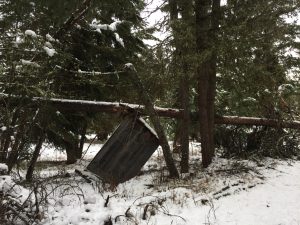 and out we went to move this outhouse and low and behold the tree had fallen on it.
Well change of plans…..now we have to see if we can salvage it, get it out of the hole the tree smashed it into and move it to the new location without it falling apart.
Turns out after the tree was cut down everything looked not to bad and the decision was made to move and fix up the old outhouse.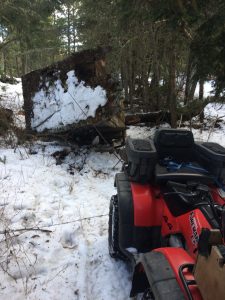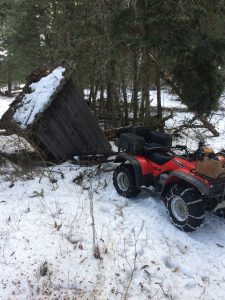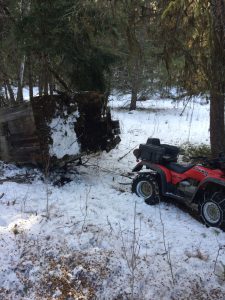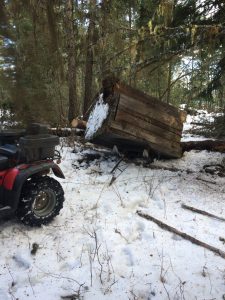 We managed to pull the outhouse  over using leverage and the ATV.  Below is a picture once it was moved and the new roof put on.
Now to spruce it up with some outhouse bathroom accessories, but first.  Need to clean up and paint the inside.
I have paint left over from the house we just built as well as flooring which will be put partially up the back wall, on the plywood around the toilet seat, down and onto the floor.
This should make for easy cleaning.  As it is still winter now, we will have to wait til spring for the painting.  I will update this post and add some pictures when it is complete.
Just happy to reclaim yet another item on the property and be able to restore it.
Then it will be time to add some……
Outhouse Bathroom Accessories
So what kind of outhouse bathroom accessories should we be adding, well off course there has to be some kind of lighting….solar….candles.
Candles are a nice touch, but I think I'm going to find a solar light.  The panel can sit on the outside of th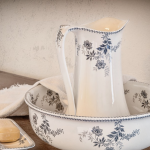 e outhouse with the light attached to the inside wall.
We'll need a wash basin to wash our hands, maybe an old fashioned jug and basin will do the trick.
A nice towel holder and of course a toilet paper holder.
I guess I'll be out searching second hand stores and garage sales for some unique accessories for the outhouse.
With the weather getting warmer and the snow melting away fast, I hope to be able to get the outhouse painted, the flooring in and start to decorate before our summer visitors arrive.