Off Grid lighting Ideas

Time to look at some off the grid lighting as the cabin is getting closer to becoming a guest room.  The generator has been there while we have been working, so it has not been to hard to light the place up, but that is certainly not a permanent fixture.



I'm finding when living off grid lighting is taking on significant importance.
Regardless of where you live, the right off grid cabin lighting is important even if you have well positioned windows, that provide adequate lighting during the day.
When looking for off grid lighting ideas there are many options to choose from.  It is natural to choose the most efficient lighting, but you do not always have to compromise on quality because of the options you have.
When living in an area where the winters are longer, like we do, a persons need to consider how many hours of darkness there will be and what will be required for efficient lighting.
Having multiple lighting options in the event of bad weather or unexpected power outages is a good idea.
The good news is:
 It is easy to find off grid alternatives for lighting
There are several options to choose from
Many options call for little to no money
As we are trying to decide on the best lighting idea for our off grid cabin life, here are the most popular lighting types I came across or have tried for off grid cabin living.



Off Grid lighting ideas
Candles are a simple inexpensive way to light an area, I make my own and have been using them in my home made hurricane lamp.  I made this lamp by putting sand in the bottom of a flower vase and putting a glass votive candle holder on the sand.  Below are some pictures of lighting I have been using.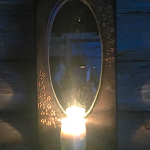 With candle light the brightness of course will depend on how many candles and what is behind those candles to reflect the light.  I had tea lights when taking the above photos.  The next time out I used votives and the light was much brighter.
This is something I am still playing with as I love to make candles and there is just something I like about candle light, although it would be hard to sit and read a book using candle light.
The great thing about candles is that they always create a warm ambiance.
For Off Grid living, things to consider when using candles are the type or candle, where it will be located and of course being vigilant since there is an open flame hazard when using candlelight. I don't like to light a candle without it being in a hurricane lamp for this reason.



Oil Lamps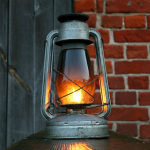 Oil Lamps are another way to light up a cabin, oil lamps are fuelled by putting lamp oil in the bottom of the lamp and lighting the wick that soaks up the oil thus creating a bright light.
They were used for years to light up homes until electricity was invented.
In the 1800's paraffin oil was the oil of choice because it was inexpensive and smokeless, before that kerosene or coal oil was used which gave off an unpleasant odour as well as the oil smoked as it burned.  Animal fats and olive oils has also been used to light oil lamps.
When doing research I came across a lamp that was made with a mason jar and using Olive oil as the oil, Olive oil does not produce any odour or smoke and is organic.  Also, being I'm a soap maker I have cases of Olive Oil in my cold storage room, so Nathan and I will be making one of these oil lamps to try out in the cabin.
As with using candles, be careful with oil lamps as they too are a potential fire hazard.



Battery Powered Lighting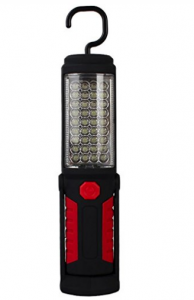 Battery-powered lighting is often necessary for off grid lighting systems since it's a reliable light source when other alternatives fail.
A flashlight are a great portable solution for off grid lighting especially for short-term use or during emergencies. Nowadays, you can also find a variety of different flashlights that don't require batteries such as hand-crank or solar flashlights.
LED flashlights are by far the best for being super-efficient and they are an excellent option for rooms with children. Unlike other sources of lighting such as oil lamps or candles, flashlights do not run the risk of fire nor emit strong or irritating fumes like other light sources
We have battery operated led flashlights which are quite bright, and a couple battery operated lanterns.
I make sure we have a good stock of batteries, because you never know.  I fell asleep one night reading with one of the led flashlights hanging on the wall above me and by the time I woke up it was light and I didn't notice it was still on.  Needless to say the next time I wanted to use it the battery was dead.
For off grid situations, you can look for 12v batteries in any store that sells automotive lighting supplies. You will also be able to find lights that are designed to run off 12v batteries. However, keep in mind that 12v lights are not designed for an 110v outlet.  We haven't tried this method; I think down the road solar will be our choice.



Solar Lights
When buying bulbs for your solar system remember Led bulbs will pull 6 watts where the old Edison style of bulb will pull 60 – 75 watts.  So you'll get a lot more light with the LED's
Solar Power
Many off grid homes are making the switch to solar and installing a solar panel kit in the home, these kits include a battery, solar panels, and an inverter.
Kits can be found in home supply stores or from companies selling them online.
You can choose from a range of different solar home lighting systems with a cost as low as $100 all the way up to the thousands of dollars.
There are professionals out there that can install a system for you, but this option will obviously cost a lot more money than doing it yourself.
When it's time to put the solar in our cabin, we will be taking a course and doing it ourselves and then maybe one day being able to help someone else doing the same thing.
The use of solar lights, solar flashlights, and other types of solar lighting devices, can light your home without costing you a lot of money.
These types of lights, especially ones made with LED lights, can provide an adequate amount of light for your off grid home for several hours a day on a single charge.
There are a few downsides with solar powered lighting.
If living in an area where there is little sunlight (especially during winter) there may not be enough light to recharge your solar system, so you may want to consider other options in addition to using solar powered lighting.
If you are using solar stand-alone lights they will have to be placed outside on a daily basis to ensure that the batteries get recharged. This task may become tedious or those who forget to do so may be forced to search for other lighting options unexpectedly.



Lighting is Easy to Plan for Off Grid Living
Striking the right balance with the interior illumination that nature provides with a range of lighting options to choose from will help make your off grid cabin living experience a lot more enjoyable.
Whether it is rechargeable LEDs, solar powered lights, oil lamps, candles, battery powered lights, or a complete solar system use these off grid lighting ideas to find, create, or buy the right combination of lighting to create the perfect home environment.
There are even styles and designs to choose from when it comes off grid cabin lighting, so right now the possibilities are endless when it comes to making the perfect lighting plan for your off grid home.
We will be trying and testing all these options as we renovate and reconstruct the main cabin.
Update – First solar light tested and we love it!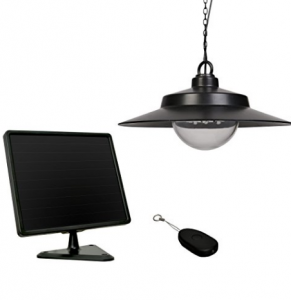 Nature Power 21030 Hanging Solar Powered LED Shed Light with Remote Control, Black Finish
#camping #travel #vanlife #offgridliving #offgridcabinliving #offgridcabin #nature #hiking #bushcraft #nomad #wanderlust #naturephotography #sparring #homestead #survival #tinyhouse #apocalypse #tinyliving #roadtrip #outdoors #tinyhome #minimalism #naturelovers #sustainableliving #offthegrid #camp #travelholic #offgridlight #solarlight #lightsolar