Installing a metal roof on this small cabin, the old roof has been torn off, now it will be prepped and ready to put the metal on.
Before doing the roof Scott has drilled holes in the fascia board and soffit to make vent holes that are for the purpose of letting warm moist are out of the roof so that moisture does not build up.
On this side of the cabin there is a shed roof off the main roof so the holes are drilled in the fascia board.  On the other side of the cabin these holes are drilled into the soffit.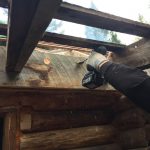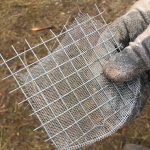 The screen in the picture is attached to the inside of the vent holes to prevent any animals from getting into the roof.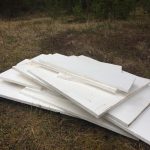 We are using the foam insulation that came out of the basement in the main cabin for our vapour barrier so this will now be placed on top of the 2×6 tongue and groove planking.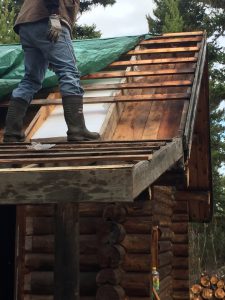 It was my job to cut the foam insulation to width and length, so I rummaged around in Scott's toolbox and found what I needed to do this task.
I found that the smaller saw worked way better than the olfa knife.
Once all the foam insulation has been placed on the 2×6 tongue and groove planking it has to be sealed.
We used a sealing caulking that we had left over from when we built our current home. We have other things left over that will come in handy while working on the small and the larger cabin.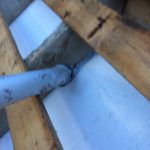 Time for the insulation.  We are using R12, this will be placed on top of the foam insulation and then the whole roof will be covered with roofing paper.  With the roofing paper it is put on starting at the bottom, with the next piece overlapping that one and so on to the top.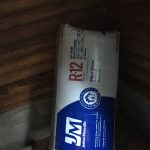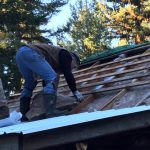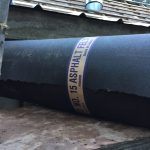 After the roofing paper was put on the roof and stapled down it was time to put the metal on the roof, starting with the shed roof and working our way up and then doing the other side.


BOSTITCH RN46-1 3/4″ to 1-3/4″ Coil Roofing Nailer, Black & Yellow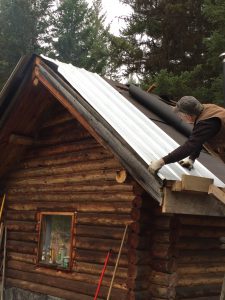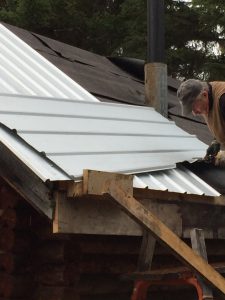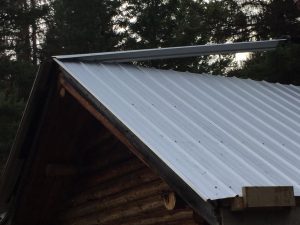 When you need and extra hand or two….well you make your own tools.
The picture above shows what Scott made to help hold the metal roofing in place.
It worked well.  Once all the metal was on the roof cap was put on and the task was complete.
#camping #travel #vanlife #offgridliving #offgridcabinliving #offgridcabin #nature #hiking #bushcraft #nomad #wanderlust #naturephotography #sparring #homestead #survival #tinyhouse #apocalypse #tinyliving #roadtrip #outdoors #tinyhome #minimalism #naturelovers #sustainableliving #offthegrid #camp #travelholic #roofing