Clean A Concrete Basement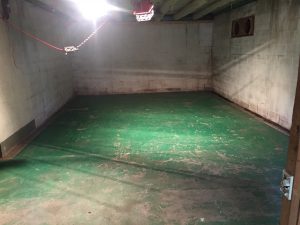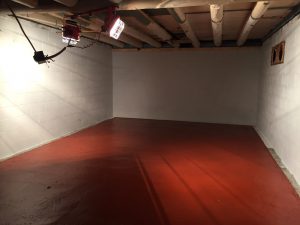 Searching the internet and listening to people on how to clean the walls in the basement of the main cabin.
What is the best homemade wall cleaning solution?
How to clean cement?
These walls were pretty dirty as you can see by the pictures, and if you have read any of my other post you will know that we have had to evict the packrats that wanted to take over.
So… I'm on a get these walls cleaned and disinfected and cleaned before putting a drop of paint on the cement walls.
Although I don't see any, my head is saying "remove mold from concrete block"
Just a little paranoid, so I'm going to make sure that what I clean this with will take care of everything.



Cleaning Concrete Walls before Painting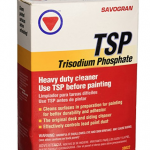 The first thing I did was use TSP dissolved in warm water and scrubbed the walls with a scrub brush and this solution.
Savogran 10622 TSP Trisodium Phosphate Cleaner, 4.5-Pound
The walls were left to dry and once again scrubbed with this solution.
After the second washing, I used a sponge and washed the walls down with plain water, at this point the walls still looked dirty and the sponge was not coming out clean.
I just couldn't paint over the walls until I did some more cleaning.



Cleaning and removing mold from concrete walls
The next thing I did was search the internet for some of the best ways to clean concrete and take off and prevent any mold from growing.
The treatment I choose was one in which you use laundry soap and bleach.  Not mixed together but in two separate applications.
What is required for this procedure is:
Water
Two buckets
Sponge or rags
Old work clothes
The first step is to mix 1/4 cup of laundry detergent in a bucket of water.  Scott and I worked together with this.  He would scrub the walls with the solution of laundry detergent and I would come behind him with a sponge washing and drying the walls.
Next we washed the walls down with water
The bleach solution – I put bleach into a spray bottle – I mixed 2 ounces of bleach to a 16 ounce bottle.  The bleach solution was sprayed on the walls and left for about 1/2 and hour and then washed off with clear clean water.
The walls were starting to look better at this point, but I still wanted to try one last thing.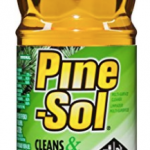 Pine-sol Disinfectant
Pine-sol – yes pine-sol.  It removes 99.9% of bacteria!
Clorox 97326 Pine Sol Multi Purpose Cleaner Amber Colored Bottle, 24-Ounce

I then poured straight regular Pine-sol into a spray bottle and sprayed all the walls.
This was left on the walls over night and in the morning I washed the walls with a sponge mop several times and then dried them off with a rag.
Now was time to paint the walls…..but not before we cleaned the floor



Cleaning a concrete floor
Cleaning the concrete floor was a little easier than doing the walls.   The first thing we did was clean it with Muriatic Acid.
Ro-Tyme Muriatic Acid, 4-L
This was to clean the floor, but also to remove some of the flaking paint that was already on the floor and help to etch it a bit so the new paint would adhere well.
A mop was used to apply the mixture of water and muriatic acid.  To etch the ratio is 1 part muriatic acid to 3 parts water.
We used a more diluted ratio, and with this product be sure to use a mask and gloves! and like any product read the instructions on the bottle.
Once the floor was cleaned with this product it was left to dry and we left it overnight.
The next morning I rinsed off the floor and washed it again with bucket of water and pine-sol.
I repeated this process two more times and then rinsed with fresh clean water, let it dry and painted that floor with an oil based concrete paint.
All in all I may have gone overboard with the cleaning, but I feel confident that I got every last speck of bacteria and it just feels and smells so much better in the basement now.
#camping #travel #vanlife #offgridliving #offgridcabinliving #offgridcbin #nature #hiking #bushcraft #nomad #wanderlust #naturephotography #sparring #homestead #survival #tinyhouse #apocalypse #tinyliving #roadtrip #outdoors #tinyhome #minimalism #naturelovers #sustainableliving #offthegrid #camp #travelholic #cleaningconcrete