An update on the Small Log Cabin
It's been awhile since I've updated on the small log cabin.
Traveling to the cabin
We have been enjoying snowmobiling up the past few winters, it's been great as we live not far from the Great Canadian Trail and can snowmobile right from our home to the cabin which is a trek of about 45 km. It took some time to get the cabin back to the point of being able to use it, but now it's great! Small log cabins are wonderful.


I keep the cabin stocked with blankets, towels, a change of clothes and the basics of food year round and we use it lots.
We don't leave any canned goods over the winter, but I do have flour, sugar, baking powder, baking soda, oatmeal, salt, pepper and lot of dried foods. One day I'll do an inventory and post if on the site. We have never been short of food when heading out for a day.
A small solar panel has been added so we can make a pot of coffee or charge our phones, it hasn't been tested fully yet. I would like to try to see what else we can plug in….in time. We put it up last year. The panel is mounted on the roof of the cook house area mainly because it was the easiest place to put it, but it also does get a great amount of sun where it is.
As well as the solar panel which gives us two plug ins, we have a solar light above the table in the cabin. The small solar panel for this light is mounted on the side of the cabin facing south.


This light is quite bright and we use it in the evening while playing a game of crib or other card game. This solar light is really great, we have never run out of light in the evening before turning it off to go to bed.
Attached to the outside door is another solar motion sensored light as well as one on the outhouse so in the middle of the night a trip to the outhouse is lighted by these lights.

Outside the small cabin is now a cooking area that is covered. We put an old wood stove under it to cook and keep warm outside on a chiller fall evening. Scott cut some slabs with the sawmill and made a nice counter, hung some pots and started the rock wall behind the stove.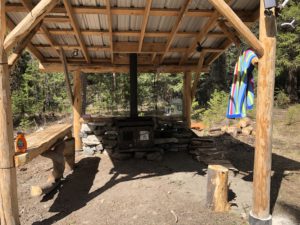 We really love our little cabin and spend countless hours there enjoying the peace and quiet of the wilderness. Taking a nap after a long morning of building or staying the night. As we carry on with the next project this will become our guest cabin for friends and family to enjoy.
We are building another structure that our travel trailer will back up to and we will live there when we move out permanently (that could be months or days depending when our in town home sells) Check out the progress on that build here.




#camping #travel #vanlife #offgridliving #offgridcabinliving #offgridcabin #nature #hiking #bushcraft #nomad #wanderlust #naturephotography #sparring #homestead #survival #tinyhouse #apocalypse #tinyliving #roadtrip #outdoors #tinyhome #minimalism #naturelovers #sustainableliving #offthegrid #camp #travelholic #smallcabins #solarlight #solarpower