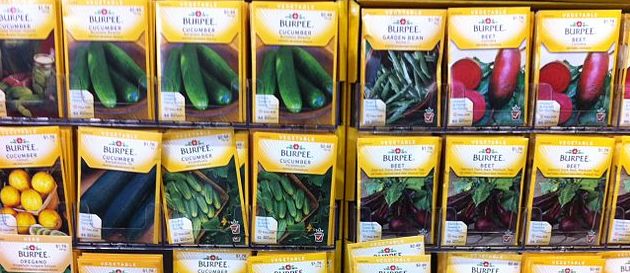 You can buy seeds from your local hardware store, feed store, or grocery store, but if you are looking for organic seed you may want to check out your local growers.
Type of Seeds
When searching the Internet for your seeds you will probably come across vegetable garden seeds that are organic, heirloom, untreated and open-pollinated.
Organic (which is my choice seed) are seeds that come from plants that have been grown organically.
Heirloom – these seeds can usually be found local at exchanges like "Seedy Saturdays" they are seeds that have been passed down through the generations by gardener's who want to keep the genetics of particular plants.
Untreated – are basically seeds that have been grown without being genetically modified, without using pesticides or synthetic fertilizers.
Open- Pollinated – are seeds that can be dried and saved for planting.
If I can't find the organic seed I like locally, or have not collected my own, then I purchase from Veseys.com.  They have a great selection of organic seed, or I have bought them through Amazon – they also have a selection of companies that sell organic and heritage seeds.
Think about collecting  your own seed, but make sure when doing this your choose the healthiest, strongest and best producing plants.  The seeds need to be fully ripened before being picked so they will have lots of nutrients for germination when you plant them.
Air-dry your seeds – the drier the seed the longer they will keep.   Your vegetable garden seeds then should be stored in an envelope or paper bag in a cool dry location.  Clearly label your seeds being sure to record the date, year of harvest and variety.  Your seed should be able to be stored for up to 5 years.
Check out the large variety of seeds in the following catalogues:
Salt Spring Island Seeds – they have a great on-line catalogue with heritage and heirloom seeds.  All their organic seeds are grown and harvested by them, with no GMO and not treated.  Salt spring Island Seeds is located in British Columbia, Canada.  They do not ship to the United States.
Veseys – have been in business since 1939 in Prince Edward Island.  They have an excellent selection of vegetable seed in their on-line catalogue.   On the website you can also request a catalogue be mailed to you.  Vesey sells certified organic seeds, but that's not all.  You can also buy plants and garden tools from them.
Richters – they are the herb specialists growing and selling herbs since 1969.  They have a really good on-line catalogue or you can request a catalogue be mailed to you.  Richters is located in Ontario, Canada
Stokes – Stokes has been around for a long time.  I remember sitting a the kitchen table as a child looking at the Stokes seed catalogue.  They have been in business since 1881.  They have a huge selection of vegetable seeds and over 30 untreated vegetable and herb varieties.