We have been spending a lot of time out at the cabin this year and I've found it a bit of a pain to travel back and forth just to get some laundry done.  It's time to find a portable washing machine.
I suppose I could go down to the spring and do it the old-fashioned way with a washboard, but somehow that just doesn't sound like too much fun to me. lol.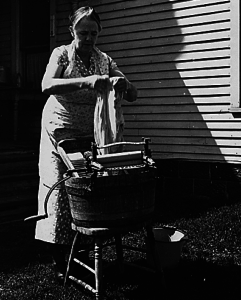 Or I suppose I could find an old wringer washing machine. Now when I say "old" I mean "OLD" meaning
a machine that does not have a cord that gets plugged into the wall.
I've used the old electric wringer washers, in fact that was the first washing machine I owned, but out at the
cabin the thing is there is no electricity so whatever I choose has to be powerless.
Now out at the cabin, we came to the understanding that we would not spend too much extra money. We would reuse the wood, scrounge what we could and try to put out money only for the most important things.
Well I'm not sure how Nathan feels, but this washing machine thing is pretty important to me. So on the hunt I go.



Is there any such thing as a solar washing machine? one that is hand cranked? hmm mm so I start doing some research. I've given myself a budget of about $100. So this is what I've come up with:
I have found two washers on the market that are hand powered.  These machines would reduce my footprint on the environment and they use about 90% less water than regular washing machines.  This alone is a bonus up at the property where often we are bucketing water from the spring.
The two washers I have found look to be quite similar.  One is called the Eco Wash and the other Wonder Wash.
These two machines look very much alike and are priced at approximately $75.00 so that is well within my budget.  Either one of them can be purchased on Amazon.
The EcoWash $75.00
Avalon Bay EcoWash Portable Non-Electric Washing Machine
The EcoWash is a Hand-Cranked mini washing machine, capable of washing 5 lbs of laundry in minutes

The lightweight, highly portable EcoWash washer is best suited for apartments, campers, boats, and delicate clothes

EcoWash portable washing machine is a huge money-saver. It requires no electricity to run, and it uses only a fraction of the amount of water and soap/detergent used by electric washing machines.

The "pressurized cleaning" technology of EcoWash thoroughly but gently cleans the toughest stains on your fabrics using smart tech, and not force.

The EcoWash mini washer is a smart investment in our planet's future too. It conserves water, electricity, and reduces your chemical footprint (detergents and soaps) on the environment.
The Wonder Wash $72.00
The Laundry Alternative Wonderwash Non-electric Portable Compact Mini Washing Machine
Non-electric, Hand-crank unit washes a 5-lb. load super clean in just a couple of minutes.

New patent-pending E-Z lid lever much easier to use than older lid screw design.

Perfect for apartments, singles, boats, RV's and even small frequent loads like hand washables and diapers.
Both machines have good reviews so either one of them work.  Both have hand crank, both conserve water and work without electricity and both will clean up to 5 lbs of laundry per load.
Below are some amazon links to other products you may be interested in.  Including these portable washers.
#camping #travel #vanlife #offgridliving #offgridcabinliving #offgridcabin #nature #hiking #bushcraft #nomad #wanderlust #naturephotography #sparring #homestead #survival #tinyhouse #apocalypse #tinyliving #roadtrip #outdoors #tinyhome #minimalism #naturelovers #sustainableliving #offthegrid #camp #travelholic #portablewashingmachine #washingmachine