Our Pelican 75 Sled 



Living off grid in the winter can be a challenge for getting around.  I don't know what we would do without our snowmobiles and pelican sled to carry cargo in the winter.
We have used these sleds for ice fishing and for hauling everything from groceries to lumber into the off grid property.
Hauling lumber to the cabin
The pictures below were from a trip out to the cabin in the winter.  We can drive all but about 4 km from the cabin, from there we have to snowmobile in.  Here we need to get some lumber out for building so this is how we did it…….
Pelican sled and lumber in the back of the truck and the snowmobile on a trailer that was towed behind the truck.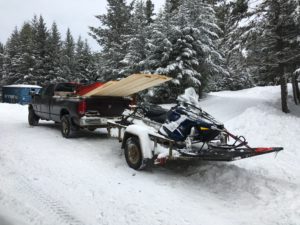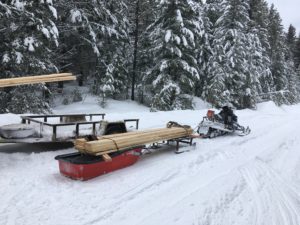 Once we got out to the cabin the lumber was unloaded and Scott got to work on the little house.  Pictures will be up in the next little while on the little house.
So while he was busy working on that, and working on something that did not require my help I went out to get some firewood.  This pelican sled made the job of hauling firewood back to the cabin a lot easier.
Gathering Firewood
I was able to drive around the acreage on my snowmobile and haul piles of firewood that had previously been cut up and left to be gathered at a later date.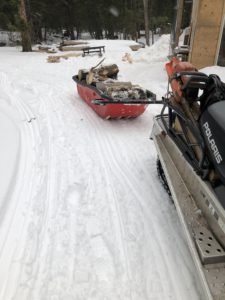 At the end of the day, everything was pack up and loaded into the sled and the cover placed over it to keep everything nice and dry.  This included our extra coats, food cooler, boots and tools.
These things were all loaded and brought in at the beginning of the day, it's hard to see but the sled was full of other things and the lumber hauled in on top.   We use this sled every time we go out to the cabin.
Sometimes we leave the truck at home and take the 45 km trail by snow machine.  When doing this the sled is always with us and packed with food and warm clothing and blankets just in case they are needed.
Heading Back Home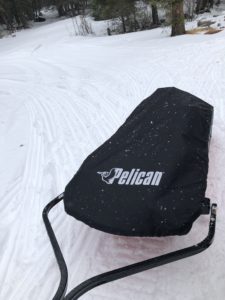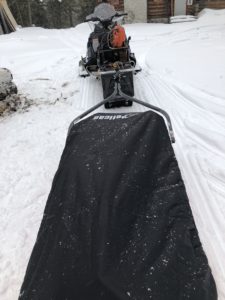 Our sled is the Pelican 75 sled and as you can see it is very handy for our off grid place.  During the winter it is used to haul everything food, clothing, blankets, firewood, lumber and tools.  When not working out at the cabin it is used for carrying our food, fishing rods and gear when out ice fishing.
This is by far one of the best items I have purchased to help us on our off grid journey.
If you are interested in getting one of these sleds here is a link.  The pelican 75 comes with the hitch and cover.
This sled is:
Very large 10 6 ft/ 300 L volume/ 500 lb capaci

Heavy-duty ram-x construction – ram-x runners facilitate tracking and extend sled life

Rear reflectors for additional safety – Molded divider slots and divider template

Reinforced shock absorbing metal tow hitch that easily folds back to allow for easier transport and storage

Travel cover included
It is priced at $399.99 Canadian
I shopped around local and found that the best price was on Amazon – with free shipping to boot!
I also use the sled below for bringing firewood from the wood shed to the house.
I had been using an old wheel barrow, but when we got 4 feet of snow the thought of shovelling to be able to use the wheel barrow didn't sound very good lol.
My solution to that in the interm as a large rubber maid container which I filled with firewood and dragged down to the house.  I had to repeat this process more times than I liked.
Then it was up to the computer and order this sled!  Works awesome.  I love it.

Pelican – Multi-Purpose Utility Sled – Use it for Ice Fishing, Hunting (Trek 45)
This sled is priced at $59.99 Cdn on Amazon a great price and the perfect size for bringing firewood in from the wood shed.
I can confidently say that Pelican is one of my favorite products.  With two snow machines I am planning on ordering another Pelican 75 for this winter.
Enjoying the off grid property and preparing to move our full time hopefully next spring.

#camping #travel #vanlife #offgridliving #offgridcabinliving #offgridcbin #nature #hiking #bushcraft #nomad #wanderlust #naturephotography #sparring #homestead #survival #tinyhouse #apocalypse #tinyliving #roadtrip #outdoors #tinyhome #minimalism #naturelovers #sustainableliving #offthegrid #camp #travelholic #pelicansled #pelican75