Off Grid Lighting Ideas



Nature Power 21030 Hanging Solar Powered LED Shed Light with Remote Control, Black Finish
I purchased this light from Amazon and must say it works better than I ever imagined.  I thought it would give us a little light, but it is fantastic.
The installation was very quick and easy, so easy it was up within a matter of a few minutes.
The solar panel was attached outside the cabin and the cord run in through a small opening up to the base of the light were it plugs in.  A couple screws and everything was in place and ready to charge.
The light was left to charge for a day and we were very pleasantly surprised when we turned it on the following evening.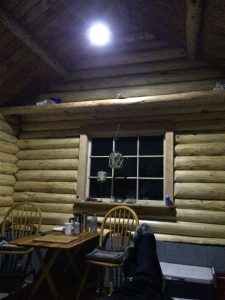 It is hung above the table and the light is bright enough to read from.
With the light comes a decent length of chain making it nice to be able to adjustable the light to the right height for your location.
The light itself is very bright and has two settings low and high which are changed from a handy keychain remote.
This light is called a shed light, but in my opinion it is much to nice for a shed.
This product is not cheaply made.  It has a heavy glass lens, not a cheap plastic one.
The cost is very reasonable at around $60.00.
I could not be happier and will be ordering one of two more for our larger cabin.  I would recommend this product for sure!
Here here is a picture of our new solar powered light hanging over the table in the small cabin.
You can see how well it lights up the cabin.
Nature Power 21030 Hanging Solar Powered LED Shed Light with Remote Control, Black Finish
Here is another really nice light great price too

Brightech Ambience Pro – Waterproof, Solar Power Outdoor String Lights – 48 Ft Hanging Edison Bulbs Create Bistro Ambience in Your Yard – Commercial Grade, Shatterproof – 1W LED, Soft White Light
#camping #travel #vanlife #offgridliving #offgridcabinliving #offgridcabin #nature #hiking #bushcraft #nomad #wanderlust #naturephotography #sparring #homestead #survival #tinyhouse #apocalypse #tinyliving #roadtrip #outdoors #tinyhome #minimalism #naturelovers #sustainableliving #offthegrid #camp #travelholic #solarlight #solar #offgridlighting