Crop rotation is important for organic gardening




Crop rotation and companion planting are a must if you are going to grow an organic vegetable garden
The importance of Crop Rotation
Crop rotation is an important part of growing an organic vegetable garden.  With crop rotation your plants will be less susceptible to pests and diseases that can be found in the soil.
Each vegetable family takes nutrients from the soil at different levels and some add it back, so crop rotation helps to keep the nutrients in the soil balanced.
Some plants in the garden such as broccoli have large leaves helping to keep the weeds down in the garden, helping to keep the ground more weed free for the next crop of say carrots.
With crops like cauliflower and cabbage it is not recommended to grow them in the same spot for more than two years.  So a 2-year rotation is good, but I like to rotate my crops every year so I do a 4-year rotation.  Crops for rotation are grouped into the 4 families below:
Pod Crops & Legumes:
Bush Beans
Broad Beans
Peas
Alliums:
Garlic, Onions
Chives
Leeks
Root & Fruiting
Potatoes, Carrots
Parsnips, Celery
Tomatoes
Corn
Brassicas & Leafy Vegetables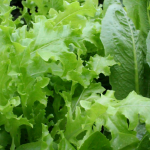 Spinach, Turnips
Radishes
Cabbages
Cauliflower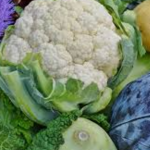 Kale, Broccoli
Brussels Sprouts
Kohlrabi
Swiss Chard
Pick the vegetables you want to grow and use the chart above to help create your rotation plan.
Families should be kept together and at the same time remember your companion planting.  Draw up a plan on paper and be sure to keep it so you can refer to it the following year.
Always keep records of your planting plan as well as how your vegetables grew so you can refer to it the following year.
I keep my book close by during planting and growing and put it away with my seeds in the fall.  Keeping records is another important part of growing your garden.  If you don't write it down, your won't remember it next spring.